Person-Centered Trauma-Informed Care
No Wrong Door Virginia (NWD) recognizes the intersectional impact of social isolation and trauma on health and community living. Growing attention in research and practice suggests social isolation and experiences of trauma are related and can negatively impact biological, psychological, social, and spiritual well-being across the lifespan. The relationship among social isolation, trauma, and transitions is an essential linkage to make within the Long Term Services and Supports (LTSS) workforce. Providing person-centered care that is also trauma-informed can equip us to respond to peoples' life experiences. Like person-centered care, trauma-informed care is strengths-based in its foundation, drawing upon story, voice, and choice in its application. This section provides resources for learning about person-centered trauma-informed care, an approach that is consistent with Virginia's Statewide Standards for practicing Options Counseling. Over the next two years, NWD will integrate a trauma-informed lens into our training approaches and offer in-person and online training in trauma-informed care and LTSS in partnership with VCU's Department of Gerontology and Virginia Partnership for People with Disabilities. Please check back here for more information.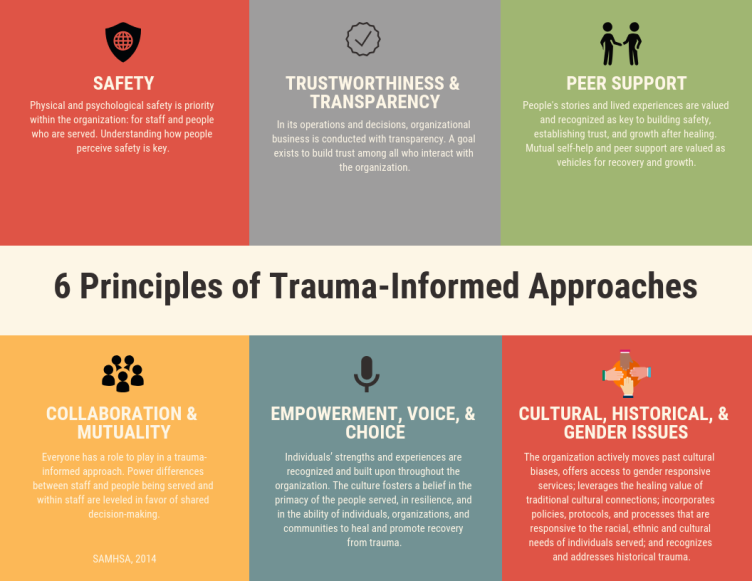 ---
Virginia's Trauma-Informed Community Networks
Would you would like to learn more about trauma-informed care? Across Virginia, multi-disciplinary coalitions, often called Trauma-Informed Community Networks (TICN), are forming to share information and resources across sectors of health and human services. Keep in mind that the level of focus on multi-generational aspects of trauma varies from region to region. The TICN in your region may primarily focus on Adverse Childhood Experiences (ACEs); your involvement could help to broaden the scope to include older people and people with disabilities. To connect with a TICN in your region, visit the Campaign for a Trauma-Informed Virginia.
---
Reference Materials
Behavioral Health & Health Care
Housing
Long-term Services and Supports